We were still feeling the impact of Storm Arwen when Storm Barra hit the UK earlier this month.
Storm Arwen brought wind gusts of up to 98 mph and it has been described by the Met Office as one of "the most powerful and damaging winter storms of the last decade".
The impact of gusty winds and flood alerts means that the building site of your next property development may have been battered by the turbulent weather.
Impact on your property development project
Adverse weather conditions can cause delays to your property development which can mean that the completion date is extended. Your design and build contractor may be entitled to an extension of time as these are issues over which they have no control.
Planning when to start the construction of our next property development can help you build in a time contingency for adverse weather delays.
Here are some of the weather events that have an impact on the project work schedule for residential build contractors.
Wind
Sound judgement is needed to continue working in windy conditions on a building site. The higher you go the more the wind speed increases, so the material loads being lifted and construction workers performing tasks at height need to be carefully assessed when high winds are forecast. An anemometer fixed to cranes, to working platforms such as cherry pickers, and on the top of scaffolding will give an operator a reading of the current wind speeds. This enables your new build contractor to stop work if the wind speed reaches the maximum in which they can safely work and operate machinery.
When high wind speeds are predicted by the Met Office, any scaffolding needs to be checked that it will remain secure and any materials that could be blown around the site need to be battened down.
Storm
Storms often bring torrential rain, and the consequences can be flooding on site. Rainwater – where an unusually high amount falls within an extremely short period of time – can quickly fill the trenches dug for foundations. If this happens day after day, there can be an extended delay whilst the water is pumped out before work can be continued.
Some construction materials can be damaged by water and your new build contractor will know to store them in a safe dry place to avoid loss of the materials on site – with the consequent time delays caused of re-stocking the products.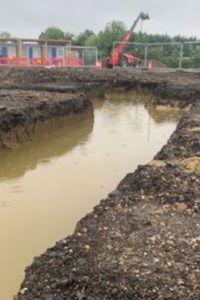 Cold weather
Some construction operations cannot be conducted in cold weather as mortar and grout need to have a level of heat for the cement to set. If temperatures fall too low the process slows or stops completely which will reduce the strength of the masonry bond. Frozen mortar will reduce the compressive strength and also decreases water penetration resistance. Your experienced residential build contractor will direct the works in line with the prevailing conditions.
Digging foundations in frozen or icy soil will take longer than expected and cold weather also impacts on the morale of the workforce on site as they are slowed down from their usual productivity rates.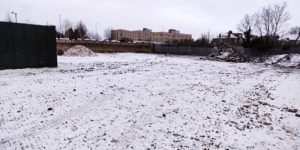 Hot weather
Although this is not a problem at this time of the year, in the summer months a lack of water can have a huge impact on building materials. Excessive temperatures may cause mortar to settle prematurely and there will be insufficient water content for the brick to lay hold of, which will decrease the bond strength making it liable for leaks within the structure. Also, keeping the workforce cool enough to work effectively can be put under pressure.
Landscaping timelines
Most property developments have some landscaping which is usually done towards the end of the project to avoid damaging newly planted trees, hedges, and shrubs.
But, ending your property development too late in the year and you might find that conditions are not right for planting, and you have to wait until the following spring.
Here are a few guidelines as to when to plant
• Trees
o are best planted in early spring as the ground thaws
o if planting in autumn it may mean that they won't survive the freezing temperatures which can damage roots and limit the available moisture
• Evergreen and semi-ever green (box, privet, and yew)
o are best planted in early autumn or left until March / April
• Deciduous hedges (beech, hawthorn, and hornbeam)
o are best planted in mid-autumn to late winter or from January / March
• Shrubs
o are best planted September / October
o they need 6 weeks to get established before the ground freezes
If the soil is frozen or waterlogged you will need to delay so timing is critical.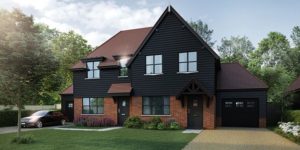 Keeping on track
Keeping to the schedule is about planning for the possible impact of adverse weather conditions. You cannot change the weather, but your design and build contractor can be prepared with local weather forecasts to alert them to possible extreme weather events. Then having as many contingencies as possible in place to mitigate whatever the wind, storms, floods, or heat might bring will keep your development on track.
Ending on an Ode to your New Build Contractor Team
The sun sits low on bended knee,
It fights to spend more time with me,
The cold this morning makes it clear,
Autumn's passed and winter's here.
As temperatures fall to low degrees,
The leaves they drop from all the trees,
Heating goes on, the boilers spark,
Your morning journey's in the dark.
For those that hone their craft outside,
Who grab their tools and graft with pride,
You have some gruelling work to do,
You should be proud, we're proud of you.
From scaffold poles and rubbish chutes,
To hard hats, vests and safety boots,
To laying bricks and building roofs,
To Ground workers laying drainage routes.
It may get wet, you will be cold,
Your joints may ache, you may feel old,
With all respect and truth be told,
Your grit is worth its weight in gold.
As spring awaits to grow new shoots,
You soldier on in your pursuits,
The determination you recruit,
Is something we can all salute.