Have you thought of using CGI to help you succeed in the planning process for your property development?CGI has often been treated as an additional cost that is not worth including in your budget. Read on as there are more benefits than you might have realised and they could save you both time and money – two valuable assets.
What is CGI?
Computer generated imagery (CGI) is the application of computer graphics to create images and special effects. CGI has been around for a long time but property CGI is becoming more sophisticated with 360 degree rendering and virtual reality tours using the latest technology.
CGI for property developers is a valuable tool to bring the architect's drawings to life and with the shift to more on-line virtual meetings it can be used effectively to gain a quick understanding of the concept of a scheme.
Top 4 Benefits of Architectural CGI Visualization
Increasingly the same CGI can be used for a number of purposes making it a versatile tool:
1. Saving time at the design stage
Architect's ideas and designs can be transformed from 2D drawings, creating a chance to explore different materials and textures in the design phase before selecting what works best. It speeds up the finalisation of the specification the outcome is seen in a realistic environment before even a single brick is laid.
2. Selling the scheme concept to the planners
The use of CGI brings your scheme alive and demonstrates how it will fit into the area in relation to the other properties. Planners are more likely to engage with the concept of your design with a CGI rather than just a drawing. The advantages you gain in selling the concept of the scheme with the planners far outweighs the cost.
3. Selling project to financiers
Anything that makes it easier to pitch for finance is welcome. You are not only selling your concept to the planners but also to your equity partners and finance companies.
4. Selling properties at an early stage
Why do you need Property CGI for marketing?  Well, not everyone can visualise what a drawing will look like once it is built. So, it provides prospective buyers with a realistic representation of the exterior of the property and the ability to imagine the interior – with different shapes, textures, and colours. Interiors can be 'dressed' with furniture and accessories, and virtual reality tours can allow buyers to walk through the rooms to get a realistic feel of what the finished product will be like – long before the building is completed and ready for occupation. You can certainly improve selling properties off-plan with high quality CGI.
Why Do You Need CGI for Property Development Planning?
When applying for planning permission for a scheme the key to convincing the planners is to show how the scheme with benefit the development of the area. Your aim is to tell a story that takes the planning officer on a journey so that they believe in you and the scheme.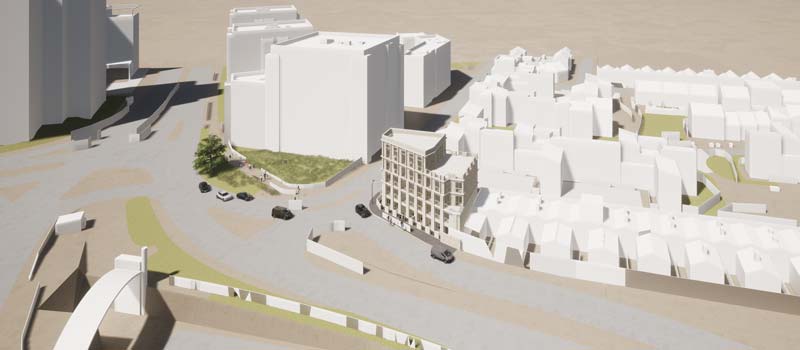 CGI really comes into its own as it enables you to show the impact of your development within a much wider area and from different angles, as well as showing closer images of the building. It brings the development so much more to life than plans and drawings are able to do on their own.
It is about weaving a story that takes the planners through the thought processes behind the scheme so being able to show the broader setting and then home in on the actual site location.
The addition of trees, cars, and people – all to scale – paints a realistic image. You can also show the buildings in day and night. Daylighting enables the planners to see the impact of sunlight, showing how the sun moves round during the day.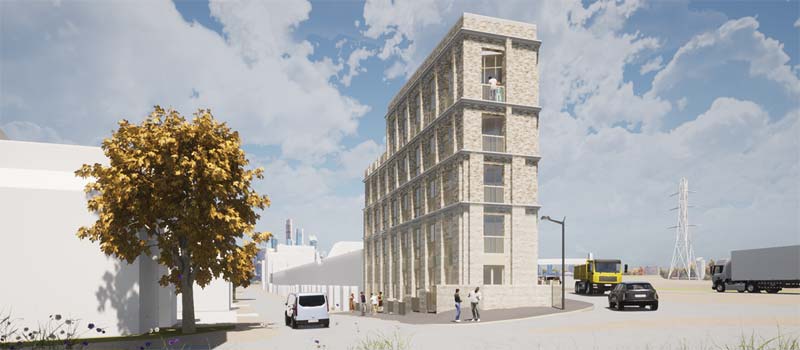 CGI images can initially be seen to be expensive but it is so much cheaper than mocking up a 3D model and it can be altered at the touch of a button. The architect is creating a visualisation of their design in an impressive way to sell the concept.
Cost-Effectiveness
CGI can do so much that it really is a no-brainer to be using it for all the benefits we have highlighted.
Where you have unique design, you cannot take traditional photos until the development is completed. So, CGI steps in to give an overview from the start. It allows you to:
experiment with the design in the initial stages,
show aerial shots and give visuals to support your planning application,
supports applications for finance,
market the units for either rent or sale.
You don't need an inhouse design team as there are many companies offering CGI services to create the imagery as and when you need it. CGI will speed up processes and CGI images are quick to share with everyone.
Do you still need convincing? Well selling a concept to anyone is about understanding that people buy with their emotional hat and then use logic to justify the decision. CGI can be used to help persuade the emotional side and, therefore, help you to sell your scheme to anyone.